WorleyParsons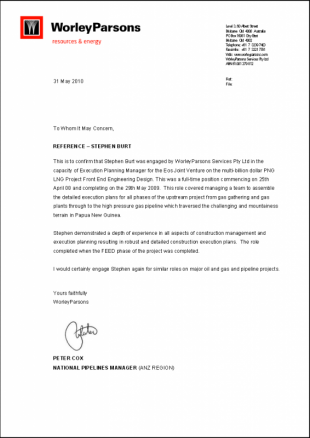 This is to confirm that Stephen Burt was engaged  by WorleyParsons Services Pty Ltd in the  capacity of Execution Planning  Manager for the Eos Joint Venture on the multi-billion dollar PNG LNG Project Front End Engineering Design. This was a full-time position commencing on 25th April 08 and completing on the 29th May 2009.  This role covered managing a team to assemble the detailed execution plans for all phases of the upstream project from gas gathering and gas plants through to the high pressure gas pipeline which traversed the challenging and mountainess terrain in Papua New Guinea.
Stephen demonstrated a depth of experience in all aspects of construction management and execution planning resulting in robust and deta iled construction execution plans.  The role completed when the FEED phase of the project was completed.
I would certainly engage Stephen again for similar roles on major oil and gas and pipeline projects.
NATIONAL PIPELINES MANAGER (ANZ REGION)