McConnell Dowell Constructors (Aust) Pty Ltd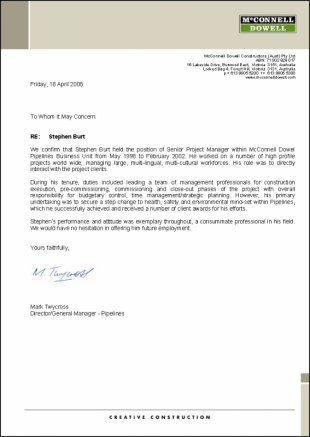 We confirm that Stephen Burt held the position of Senior Project Manager within McConnell Dowel Pipelines Business Unit from May 1998 to February 2002. He worked on a number of high profile projects world wide; managing large, multi-lingual, multi-cultural workforces. His role was to directly interact with the project clients.
During his tenure, duties included leading a team of management professionals for construction execution, pre-commissioning, commissioning and close-out phases of the roject with overall responsibility for budgetary control, time management/strategic planning. However, his primary undertaking was to secure a step change to health, safety and environmental mind-set within Pipelines, which he successfully achieved and received a number of client awards for his efforts.
Stephen's performance and attitude was exemplary throughout, a consummate professional in his field. We would have no hesitation in offering him future employment.
Director/General Manager - Pipelines